Miramar's
Professional Metal Roofing Contractors
Reaching out to professionals is not something only a few people would do, especially when it comes to services and projects related to their properties. What we are trying to tell you with this is that we know some people seem to hate the idea of hiring some services and experts. However, when it is something that can get dangerous and you know the probability of obtaining a good result are almost none when you do it alone, why wouldn't you just go for the help of an expert?
A good example of this is roofing services regardless of the specific roofing system you are dealing with. Property owners don't like to get the assistance of a professional even when they know it is almost impossible to get the project done without help. As a result, many not only end up spending more time and money hiring an expert later on but also get themselves into accidents that could have been easily prevented.
You should never underestimate how difficult a task can be. And instead of making bets while trying to deal with everything on your own, get access to some experts that can help you obtain the best results and outcome. When it comes to roofing, it will depend on the specific roof you have installed.
Not all roofing experts can deal with every roofing system in the market and therefore, you will need to find one that is for the one you have installed. In those cases, it gets easier to access professionals since you will have less than a hard time trying to find the best professionals according to your needs. That being said, if you have a project, problem, need, or anything related to metal roofs, you can count us in for them.
Our company Metro Metal Roofing Company of Miramar is dedicated and specialized in this type of roofing only. Since there are many services and elements involved in this field, you might be asking yourself why would you need a professional in the first place. Well, for the same many services. The most common task for our contractors always lies in the installation of a new metal roof.
Many commercial property owners have noticed how good metal roofs are and as a result, all of them aim for getting one for their own properties. Metal roofs have always been popular among commercial owners due to their durability, longevity, and low-cost. But many residential ones have always neglected them due to the aesthetical part when the truth is that metal roofs can look awesome and stunning just like any other system.
Going back to needing contractors, if you want to obtain the best result when installing a metal roof you will need to get in touch with us. In the case of any of those roofing systems, the first-time installation is crucial. The main repairs and problems that appear in the future with any metal system you have are always due to poor installations. You want to avoid this at all costs if you truly want a well-designed but also durable roof for your property.
And our contractors will get it just done. That being said, our contractors can help you with much more than just installations. Most people that reach out to us and ask for our experts are those who do not have a clear idea of the service they need or maybe what they want is not exactly among them. Some people get creative with metal roofs and as a result, the projects are quite challenging and even weird at some point.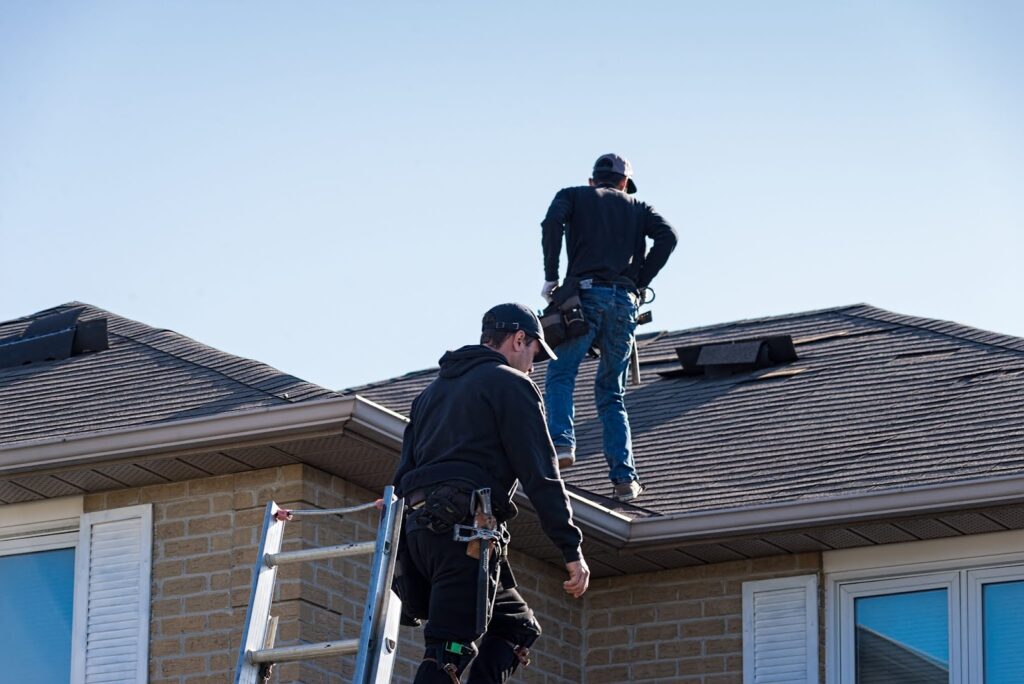 What can our contractors do for you?
---
We already focused on installations and some unique projects you could have in mind. However, just like any professional in this field should be, we are more than capacitated to get several services and tasks done. Among our services and purposes in life, repairs and maintenance follow installations as the most requested ones in our list.
Repairs are not that frequent in metal roofs, but it is not easy to deal with them when they appear not because of the difficulty of the repair but rather the type of roof. You can't stand in metal just like with other roofing systems, so it is necessary to perform anything with the right safety measures. As for maintenance, those type of roofs also need theirs once in a while.
It is only natural to need those services and some property owners decide to perform them without help because they look simple and easy. We cannot deny this, but they are easy only when you know what to do and how to do it. Finally, our contractors are well-trained and experienced in not common services such as re-roofing, retrofitting, replacement, and more. This means you can count on us for some extra services that are not found in other metal roofing companies in Broward County.
How are we able to offer so much thanks to our contractors?
---
Well, that is basically the reason behind it: due to our contractors. At Metro Metal Roofing Company of Miramar, we have made sure to give proper training, equipment, and tools to perform any service and task perfectly. Therefore, you can say we have invested in our services and we are always looking to improve them because it is not impossible to get better.
Our company has come a long way during the last three decades, and even when there are so many competitors in the industry and Miramar, we are always at the top of everything. We have worked hard to get here. From simple training and some installations to learning about re-roofing, replacements, and more complicated but necessary services our contractors needed to know about.
We have prepared ourselves, let's keep it in that simple and practical way. To access our services and well-experienced contractors, make sure to call, email, or visit us anytime. We will be there for you whatever the problem is and no matter the project you have in mind.
Time to Replace Your Roof? We Can Help
---
Considering roofing replacement? When it comes to roofing projects, many homeowners rely on professionals to get the job done. At Metro Metal Roofing Company of Miramar, our specialists stick to all the industry standards when installing metal roofing on both residential and commercial properties. Therefore, you can be sure of getting a sturdy roof on top of your house. As a result, you can get the best services from our company in the following fields;
What Locations do we Serve?
---
Metro Metal Roofing Company of Miramar is a name you can trust and rely on. Our metal roofing services were limited in Miramar, FL when we started. But with time our company has expanded and is now serving over ten locations within Florida.
It shows how reliable we are. Here are some places within Florida, where you can access our world-class metal roofing services: –